Joe McGinniss was an American journalist and best-selling author.

McGinniss became an overnight success when his first book, The Selling of the President 1968, landed on the New York Times bestseller list when he was 26 years old, making him the youngest living writer with that achievement.  The book described the marketing of Richard Nixon during the 1968 presidential campaign, and was well received by both critics and the public, and has been recognized as a classic of campaign reporting that first introduced many readers to the stage-managed world of political theater.  It spent more than six months on best-seller lists.
Over the course of forty years, McGinniss published twelve books.  In every decade of his unconventional career he wrote a book that became a classic, each transcending its genre:  The Selling of the President during his twenties; Going to Extremes during his thirties; Fatal Vision in his forties; and The Miracle of Castel di Sangro in his fifties.  The Rogue: Searching for the Real Sarah Palin, one of McGinniss's most controversial books, and his last to be completed, was published in 2011.
McGinniss was drawn to scrutinize the mysterious space between image and reality in his subjects:  how that space is created, negotiated and/or manipulated.  Whether writing about a politician (Richard Nixon, Ted Kennedy, Sarah Palin), a sociopath (Jeffrey MacDonald, Nancy Kissel), or even a soccer team (Castel di Sangro), McGinniss felt compelled to search for the truth, however elusive, behind the people and events he chronicled.  Penetrating the façade of institutions and people in public life was an exhilarating but risky business for Mr. McGinniss.  Sometimes the results were culturally ground-breaking and wildly popular, sometimes disillusioning and distinctly unpopular, sometimes personally heartbreaking.  But McGinniss' approach to his subject matter was always original and his books were never less than compulsively readable.
In 1979 he became a writer-in-residence at the Los Angeles Herald Examiner. Next came the McGinniss trilogy of true crime books, Fatal Vision, Blind Faith and Cruel Doubt.  All three books were made into TV miniseries.  His 1983 account of the Jeffrey MacDonald murder case, Fatal Vision, was a best-seller.  In his critically acclaimed book about Alaska, Going to Extremes (1980), the fledgling state itself was his subject.  Although he didn't hesitate to reveal the many flaws and contradictions behind its "last frontier" image, McGinniss fell in love with the land and its people.  Thirty-six years later, he returned to Alaska in search of its most famous current resident, Sarah Palin.  The result was an extraordinary double narrative that alternately traced Palin's curious rise to political prominence and worldwide celebrity status and then recounted the author's day-to-day experiences as he uncovered the messy reality beneath the glossy Palin myth.
In 1995, McGinniss sat through the O.J. Simpson murder case, expecting to write a book about it, but he returned the $1 million advance after Simpson was acquitted, saying the trial had been "a farce."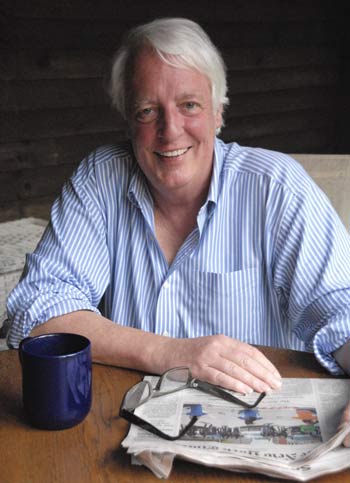 Joe McGinniss was born in New York on December 9, 1942.  He graduated from the College of the Holy Cross in 1964 and became a general assignment reporter at the Worcester Telegram in Worcester, Massachusetts.  Within a year he left to become a sportswriter for the Philadelphia Bulletin.  He then moved to the Philadelphia Inquirer as a general interest columnist. At his death McGinniss was at work on a memoir chronicling his adventures as a writer and his experience with prostate cancer.
He died March 10, 2014 at UMass Memorial Hospital in Worcester, Massachusetts. The cause of death was pneumonia and septic shock secondary to metastatic prostate cancer.
McGinniss's marriage to his first wife, Chris Cooke McGinniss, ended in divorce.  He leaves behind his second wife, Nancy Doherty, and five children: Christine (Yves) Marque, Suzanne (Kevin) Boyer and Joe McGinniss Jr. (Jeanine Ford) from his first marriage and Matthew McGinniss and James McGinniss (Kathryn Malone) from his second; and seven grandchildren: Dylan, Lauren and Carly Boyer; Sebastien, Cecilia and Samuel Marque; and Julien McGinniss.
Remembering Joe:
Washington Post's Gene Weingarten at Joe's memorial service
Contact:   joemcginniss@gmail.com |  

|   

One Response to "ABOUT JOE"