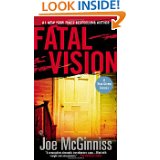 IN her error-riddled, largely incoherent and insufferably snide piece in The New Republic about the recent Jeffrey MacDonald hearing in Wilmington, NC (I'll deal with it in slightly more detail–though it doesn't deserve much–in my upcoming Byliner Original to be called "The Last Word on Jeffrey MacDonald") Margo Howard, who is even older than I am, and no less portly, and who also has been married more times, and who–I'm reliably informed–fell asleep and snored during the hearing–writes this:
"But in 1975 [MacDonald's] formerly supportive father-in-law, with an assist from the writer Joe McGinniss (who was soon to publish a book arguing MacDonald's guilt) succeeded in getting MacDonald indicted in a civilian court."
I have occasionally been credited for accomplishments that were not mine (though not nearly as often as I've been blamed for things I didn't do, say, or write) but never on a scale such as this:  I, a mere writer, could have enough clout with the Department of Justice to help get a man indicted on three counts of murder by a federal grand jury?
Wow.  What planet is Ms. Howard living on?
Not to mention that I never met MacDonald's ex-father-in-law until the  1980s, and that I knew nothing about MacDonald or his indictment until 1979, when I first met him.  And my book, Fatal Vision, was not published until 1983, more than four years after the arguments about MacDonald's guilt had been settled by a jury in Raleigh, NC, and more than eight years after his indictment.
I recently wrote an Op-Ed piece for The New York Times about the MacDonald hearing (at which I testified, under Justice Department subpoena).  I spent five times more time with Times fact-checkers than I spent writing the piece.
Apparently, The New Republic no longer has fact-checkers.
p.s.  personal to Ms. Howard:  there was nothing improper about my giving interviews or tweeting before I testified.  I received permission to do so from the Department of Justice, as long as I did not discuss my pending testimony.  And regarding #Fatal Vision:  do you know the function of a hashtag on Twitter.  No slip, Freudian or otherwise, involved.
15 Responses to "Dumbest Error I've Seen Published About Me This Year"