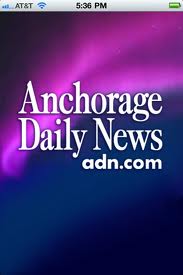 It's long been obvious to anyone who's paid attention to the rise of Sarah Palin from mayor of Wasilla to governor of Alaska and beyond that the Anchorage Daily News was her greatest enabler.
By turning a blind eye to her avariciousness, viciousness, venality and incompetence, the ADN allowed her to inflict herself, first on the state of Alaska, and then on the whole of America.
In an Aug. 31, 2008 profile of her, ADN called her, in a headline, "The Joan of Arc of Alaska politics."
On Thursday, Oct. 20, 2011, in a speech at his alma mater, Baylor University, ADN executive editor Pat Dougherty finally 'fessed up.
"She has been such a presence for the life of our newspaper," Dougherty said.
He admitted–for the first time (to my knowledge)–that the ADN promoted Palin out of self-interest.
"Our paper was actually very crucial to the rise of Sarah Palin," he said.
Lacking context, I can't say whether he was bragging or apologizing.
But he said, "The relationship between the paper and Palin was actually pretty good…really, we were her strong supporters."
Dougherty was clearly not apologizing when he said that after John McCain chose Sarah as his running mate, "Everyone in the world was calling…A year after the announcement our paper had 175 million page hits online."

That was the ADN's payoff for never telling the truth about Sarah.
It's precisely the same symbiosis which exists between national mainstream media and Sarah Palin today: as long as she delivers page views, they'll give her a free ride.
And they'll attack a book such as THE ROGUE because it does tell the truth about her.
Why do you think Rachel Maddow refused to book me for an interview?
Why did Keith Olbermann, Morning Joe, Stephen Colbert and Bill Maher cancel interviews that they'd already arranged?
Because, like Pat Dougherty at Baylor, they still don't want to admit that their golden goose is dead.
They still need her. Without her, they're stuck with Mitt Romney and Herman Cain and 2012 ratings that will slump to dangerous lows.
Consider this, reported by the Baylor Lariat:
"Palin brought in huge hits on the [ADN] website, and today 17 percent of its total revenue is a result of the Internet."
Any wonder why they didn't want to pursue the stories about Trig?
Any wonder why they ignored Sarah's blatant racism?
Any wonder why they never explored her religious extremism?
The Anchorage Daily News was in the business of surviving, no longer in the business of journalism, as it was in 1976, when my wife worked as a reporter there and the paper won the Pulitzer Prize for Public Service.
If there were a Pulitzer for Public Disservice, Pat Dougherty's ADN would have won it in a walk for every year between 2008 and 2011.
From 2005 to 2008, the ADN was merely negligent and incurious in allowing Sarah to rise like a souffle´.
From 2008 until today, the ADN has prostituted itself in pursuit of a better bottom line.
And its executive editor has finally admitted as much.
My concern is that he doesn't–even yet–seem to see how wrong it was to so cynically betray his readers.
Mr. Dougherty, if you wonder why so few remain, don't look at the national economy: look in the mirror.
"She has been such a presence for the life of our newspaper," he said.
He should have added, "But because she cost us our credibility with our readers, she's now become a major cause of our death."