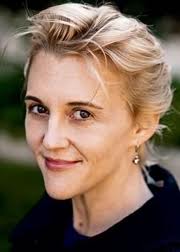 Meghan Daum–always incisive, often funny, occasionally brilliant–wrote a column for the Los Angeles Times last week that I first noticed because of the Hall-of-Fame correction appended to it:
FOR THE RECORD:
Politics: In Meghan Daum's April 17 column on Sarah Palin, Palin was misspelled as Pain in one reference.
Daum is a terrific writer.  A decade ago, she published a gloriously rambunctious collection of essays titled My Misspent Youth.
I'm eager to read her imminent confession about succumbing to real estate addiction and other forms of materialism and status-envy after her move from Nebraska to LA: Life Would Be Perfect If I Lived In That House .
And having read her whole LA Times column now: "Why Sarah Palin doesn't get what she deserves" I'm struck by a couple of things she says.
Daum writes, "Palin has gumption…But that doesn't mean I shouldn't have gone after her harder on many fronts. I didn't do it because I didn't want to come across as a mean-spirited smarty pants."

She also admits, "Because the Palin machine ingeniously rebrands any criticism…as bilious emanations of the 'lamestream media'(this being code for liberal elitist, which is code for educated…) it's all but impossible to challenge her without being discredited…"
I think we should read and re-read the above. One of the hottest Gen-X writers on the radar screen says she pulled her punches at Sarah because she was afraid of being attacked by Palinists. Now that she sees Sarah as down and probably out ("Sarah Palin probably isn't running for president") she expresses remorse, because she feels it's safe to do so.
While we might not applaud her careerism, we should at least give her credit for 'fessin up, even at this late date. Very few of the many worse offenders have had the courage to do so.
She writes that when attacking Palin "It's impossible not to feel like we're punching shamefully below our weight…Palin lacks the intellectual, analytical and rhetorical skills to have a competent discussion about policy or much else…She is, in terms of the political arena, easily outclassed."
Yes, but: you're only kicking her now when she's down. In 2008, when it mattered, you shied away for fear of being "discredited."
Meghan Daum is not the writer of whom I'd make an example in that regard. And her fresh burst of candor shines a light on the dark, wormy cellar of fear and ambition that dictates the parameters of so much MSM discussion of politics. Why is Matt Taibi one of the few political journalists worth reading today? Because, like Hunter Thompson and Jimmy Breslin back in the day, he writes it as he sees and feels it.
Meghan Daum's admission that she did not should be applauded. Never too late to return to the true faith of writing without fear or favor.
28 Responses to "In LA Times, Meghan Daum Admits Cold Feet about Sarah Palin"