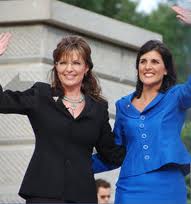 As Sarah's free-fall into political irrelevance accelerates, Bachmann has already replaced her as the right-wing Republican woman who might matter in 2012. But it's Nikki Haley (pictured with Sarah above) who threatens to erase all memories of the Wasilla Weirdo.
[By the way, thanks to commenters and others who worry that nobody will care about THE ROGUE when it is published on September 20. Worry not. My publisher, Crown, is not concerned. In fact, the people at Crown are wildly excited about the book's prospects, and growing more so every day. THE ROGUE contains enough startling new revelations–as well as my first-person account of what it was like to live next to Sarah last summer–to assure the sort of national interest that previous books about Sarah did not achieve. Major national media attention is already guaranteed, although I'm not permitted yet to get specific.]

But think longer term: Bachmann will burn out this year and next because she's just as dopey and as enslaved to Dominionist Christianty as is Sarah.
Obama should be so lucky as to have Bachmann as his 2012 opponent. (No, he couldn't possibly be so lucky as to have Sarah to wipe up the floor with next year: if he did, he might win all fifty states.)
No matter who it is, he'll be reelected. Yes, you heard it here first. No matter how short the odds, bet Obama in 2012.
Current odds from Ladbrokes in the UK:
Barack Obama
1/2
Mitt Romney
5/1
Tim Pawlenty
12/1
Rick Perry
14/1
Jon Huntsman
20/1
Michele Bachmann
20/1
Sarah Palin
33/1
Rudy Giuliani
50/1
Herman Cain
50/1
Ron Paul
66/1
Newt Gingrich
66/1
Rick Santorum
150/1
Gary Johnson
150/1
Thaddeus McCotter
150/1
If you bet $1,000 on Obama to be reelected, you'd receive $1,500 the day after election day, 2012.
That's a fifty percent return on your money in sixteen months.
I personally, of course, do not endorse wagering in any form.
Nonetheless, you might be interested in Ladbrokes' take on the GOP nomination:
Mitt Romney
11/8
Tim Pawlenty
4/1
Rick Perry
5/1
Michele Bachmann
7/1
Jon Huntsman
10/1
Sarah Palin
14/1
Rudy Giuliani
25/1
Herman Cain
25/1
Newt Gingrich
33/1
Ron Paul
40/1
Rick Santorum
66/1
Gary Johnson
66/1
Thaddeus McCotter
66/1
Rick Perry, who hasn't even said he'll run, is 5/1, while Sarah, slipping fast, is 14/1 for the nomination.
But let's look beyond the easy money Ladbrokes is putting on the table. Let's look to 2016, by which time Sarah will be only that bad taste you might burp up if you ate too much pizza last night.
The GOP/Tea Party/hot chick meme will still be out there. There will be no incumbent President.
Beware Nikki Haley of South Carolina. The New York Times has just anointed her as the future of the Tea Party here.
And the Haley piece was written by Kim Severson, formerly of the Anchorage Daily News.
So she knows how this stuff can happen.
HAPPY FOURTH OF JULY TO ALL WHO READ THIS BLOG AND COMMENT ON IT, AND ALSO TO ALL OF OUR TROOPS SERVING OUR NATION, BOTH HERE AND ABROAD, AND ESPECIALLY TO THOSE WOMEN AND MEN WHOSE LIVES ARE IN DANGER AS THEY SERVE IN WAR ZONES.
It's not only Sarah Palin who cares about you.
106 Responses to "Meet the new Sarah Palin: Nikki Haley of South Carolina"