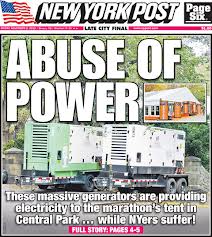 …Nor should there have been.  How Mayor Billionaire Bloomberg and NY Road Runners could ever have tried to force this carnival down the throat of a suffering city beggars belief.
How insensitive and self-absorbed can public officials and corporate executives be?  And make no mistake:  NY Road Runners is a multi-million dollar corporation whose chairman of the board, George Hirsch, I happen to know.
George Vecsey, whom NY Times pensioned off much too soon, offers the best perspective I've seen:   http://goo.gl/Mp69A
I ran NYC three times, but with bodies of children still being dragged out of the mud this is not the time for prancers and dancers to celebrate their physical fitness in front of thousands without electricity, food, or water for drinking or flushing.
5 Responses to "No NYC Marathon This Year…"