Byliner today published the first chapter of my next book, 15 GOTHIC STREET. It's called "Primitives" and is available wherever ebooks are sold. See http://byliner.com/originals/primitives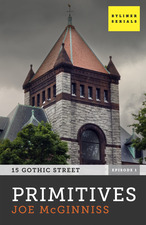 Paired with a new work by Margaret Atwood, "Primitives" launches BYLINER SERIALS.
Byliner says:
The literary serial began hundreds of years ago with One Thousand and One Nights, and Dickens carried on the tradition with The Pickwick Papers, Harriet Beecher Stowe with Uncle Tom's Cabin, Tolstoy with Anna Karenina, Dostoevsky with The Brothers Karamazov, and Tom Wolfe with The Bonfire of the Vanities.
Today we launch Byliner Serials, an ambitious new imprint devoted to great serialized storytelling. The program kicks off with Positron, by bestselling novelist and Booker Prize winner Margaret Atwood, and 15 Gothic Street, by nonfiction crime master Joe McGinniss. Each will be delivering regular episodes in the grand tradition of iconic writers from Dickens to Wolfe, but in a thoroughly modern, supremely convenient form.

In addition, Penguin/Signet has just made FATAL VISION available in ebook form.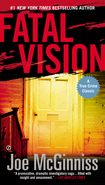 The repackaged mass market print edition of FATAL VISION will be published next week.
COMING SOON: also from Byliner: THE SELLING OF THE PRESIDENT in ebook form, with a new introduction by me.
This question has been around about as long as the chicken and the egg. Or at least since I started in journalism. In its newest iteration, there's a suggestion that all depends on who is laying the egg.
If David Foster Wallace makes up quotes in a piece that purports to be nonfiction, hats off! He's only doing it get to to a deeper level of truth.
But if Joe McGinniss does it, god forbid! Off with his fingertips!
By the way, I don't.
On Salon.com, in regard to Wallace fudging quotes in his piece about his experience of taking a cruise, ("A Supposedly Fun Thing I'll Never Do Again"), Daniel B. Roberts says, "…if altering dialogue served to better crystalize and define that experience, then it's still truthful, no matter what David Remnick or his fact-checkers would say."
So if you're a fiction writer dabbling in journalism and calling the result an
"essay," then "massaging the facts" (Roberts's term for what Wallace did in his nonfiction) is okay. Roberts writes, "…the idea that Wallace's occasional use of invented dialogue makes him, by definition, not a journalist, is a laughable one."
Pardon me for laughing.
Does anyone remember the brouhaha in 1984 when New Yorker writer Alastair Reid said he routinely (as Maureen Down reported in the New York Times) "invented characters, rearranged events and composed conversations in search of 'a larger reality.'")?
At the time, Reid told Joanne Lipman, then a Wall Street Journal reporter, "Some people write very factually. I don't…Facts are only a part of reality…You have to get over this hump that it's fact or else. There is a truth that is harder to get at…than the truth yielded by fact."
Reid and The New Yorker were roundly pilloried.
Now David Foster Wallace (of whose genius I stand in awe) is celebrated for doing the same thing.
Does this show a decline in our perception of journalistic standards, or merely the decline of hypocrisy in regard to same?
I'd have a much easier time reporting and writing my next book, 15 GOTHIC STREET, if I fabricated the quotes and stretched the facts to suit my narrative needs.
But I've never done that, and I'm too old to learn new tricks now.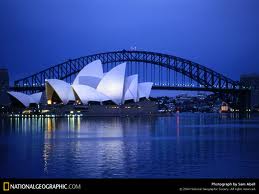 I'm pleased to say that from May 14 to May 20, my wife, Nancy Doherty, and I will be appearing at the
Sydney Writers' Festival in Sydney, Australia.
As its website says:
Sydney Writers' Festival is Australia's largest annual celebration of literature and ideas. Each year, we present over 300 events (half of them for free) and attract attendances of around 80,000 in venues that stretch from the Festival hub at Walsh Bay to the Blue Mountains. For one week every May we bring together authors of the very best contemporary fiction and writers of cutting edge nonfiction, including some of the world's leading public intellectuals, scientists and journalists. With the finest literary writing at our core, our programming is driven by the ideas and issues that animate all forms of writing.

Nancy, now a freelance editor, who has worked at Simon and Schuster, Atheneum, and the Book of the Month Club, will conduct a day-long editing seminar.
I'll be discussing my life and work from The Selling of The President 1968 to The Rogue and beyond.
Sydney is one of the world's leading writers' festivals, and Nancy and I are honored to have been invited.
For this, I'll even take a week off from 15 GOTHIC STREET.
This is why every jury trial is a dramatic event.
The prosecution presented what I considered overwhelming evidence against David Fried Oppenheim, the founder of a community theater in Easthampton, Mass., who used his position as mentor and guru to sexually prey upon teenaged girls, one of whom was only 14 years old when the child rape began.
He's a personable and articulate 38-year-old man, with a wife and five-year-old son.
Often over the past two weeks, I found myself engaging in small talk with his older brother, his mother, his mother-in-law and his father-in-law, as well as with other members of the extended Fried and Oppenheim families. (His name was David Fried; his wife's name was Sonia Oppenheim; they began to call themselves Fried Oppenheim after their marriage.)
But sexual predators don't lend themselves to racial or demographic profiling.
The guy next store, or your son's or daughter's drama coach, or football coach, or that charismatic
new priest in your parish might actually be (though seldom is) a predator, driven to rape your
less than sixteen-year-old daughter or son.
David Fried Oppenheim won the trust of not only children but parents during his years in charge of the Performing Arts Center of Easthampton (PACE.)
Undoubtedly, PACE was a home away from home for many kids whom Fried Oppenheim did not rape.
Unquestionably, many children (and adults) thrived at PACE. They were the lucky ones. They didn't trigger his uncontrollable impulses.
But trial testimony made clear that in addition to the victim, there were other kids, sixteen or older, with whom he initiated sexual conduct under the guise of teaching them a new acting technique he'd developed, called "Primitives."
And one student/intern/volunteer/performer seemed so delectable that he disregarded the fact that she was only 14, and he lured her into sexual encounters–vaginal, oral and anal, approximately a hundred altogether–that continued for more than a year and a half.
I'll be writing about this case in 15 GOTHIC STREET, after I've spoken to many more of those involved, including the jurors, who deliberated for almost eight hours over two days before returning their guilty verdicts.
I say "verdicts," because the indictment contained five counts, each specifying a different form of sex that Fried Oppenheim had with the underage victim:
–digital (i.e. fingers/vagina)
–oral (i.e. tongue/vagina)
–vaginal (i.e. penis/vagina)
–anal (i.e. penis/anus)
–oral (i.e. penis/mouth)
The jury today said Fried Oppenheim did these things to a 14/15 year-old girl more than a hundred times over a year and a half. Another witness testified to having had sex with him approximately a hundred times when she was a teenager, but sixteen or older when it began. Two more witnesses were prevented by the judge from detailing the full extent of Fried Oppenheim's sexual exploitation of them.
I think there are a lot of fine people in both the Fried and Oppenheim families.
But were they all in denial?
Did any of them seriously doubt that he'd committed the offenses with which he was charged?
Or did they just rally round, in a show of tribal loyalty, and willfully refuse to consider the evidence
that proved sufficient to the jury?
And speaking of fine families, the parents of the victim in this case gave painful but compelling testimony, as did the victim herself, and as did her boyfriend, who was instrumental in getting her to press the charges that led to today's conviction.
It wasn't easy. It would have been much easier to let things slide. But these people stood up and spoke out, and because they did a child rapist will soon be heading to state prison.
Sentencing is scheduled for March 8.
In the meantime, Fried Oppenheim is free on $5,000 bail.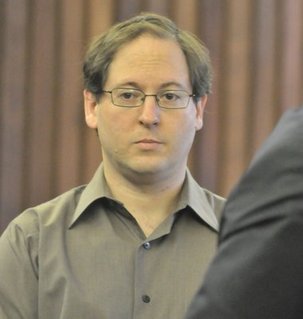 The last four jurors were seated this morning in Hampshire County Superior Court, 15 Gothic Street, Northampton, Massachusetts.
After a brief delay due to a bomb scare (apparently unrelated to the trial),
Linda Pisano made an opening statement on behalf of the prosecution, and David Hoose
did the same for the defense.
The prosecution opened its case by calling the alleged victim, now twenty years old and a student
at the prestigious Manhattan School of Music in New York City, as its first witness. She began to tell the jury how Oppenheim had repeatedly had sex with her when she was fourteen. She did not complete her testimony, nor did Hoose have a chance to cross-examine her.
So I'll stop there.
A trial is a book of many chapters.
The truth–or as much of it as is ever ascertained at a jury trial–evolves over days, weeks or months of testimony.
News media report each day's events because they're news.
As an author working on a book about a year spent at 15 Gothic Street, I'm under no such pressure.
What I think and how I feel tonight may not reflect what I'll think or how I'll feel after further testimony tomorrow, or the next day, or the next.
The court has a standard by which it measures potential evidence: would it be more probative than prejudicial? If a judge decides that it would not be, the material cannot be presented at trial.
Applying that standard to this blog, I'm choosing not to comment further on this case while the trial continues.
I report my books exhaustively, write and rewrite them with consummate care, then shepherd them through meticulous editing and legal vetting processes.
A blog is something I can come home at night and post before dinner.
The stakes in the David Oppenheim trial are so high that I wouldn't be comfortable doing that in the days to come.
I'll be in court, reporting for my book, 15 GOTHIC STREET. But out of respect for the process, I'll have to ask you to look elsewhere for daily coverage.
Almost every day, unrelated things happen simultaneously.
Yesterday, two more jurors were seated in the David Fried Oppenheim trial.
If four more are seated on Monday morning, opening statements may actually come Monday afternoon.
The trial will almost certainly continue into the week after next.
But that's not all Judge Mary-Lou Rup had to deal with yesterday.
In the afternoon, for example, the lawyer for a 57-year old Northampton man accused of trying to murder his 83-year old mother by setting her on fire in their home, argued that the mother's 911 call, in which she says, "Help! I'm on fire!" and "I'm burning like hell!" should not be admitted as evidence, because on the recorded call the accused can be heard cursing in the background, thus making it a recorded call made without his knowledge or consent.
Assistant District Attorney Matthew Thomas called that interpretation of the federal wiretapping statute "novel." He was being kind. Preposterous is another word that comes to mind.
The estimable Judge Rup says she'll rule on the motion to suppress shortly.
Meanwhile, Alan Rubin, director of the public defender's office in Hampshire County, appears in court almost daily on behalf of various and sundry clients who cannot afford private attorneys.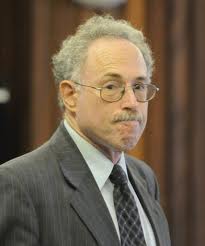 Rubin, a graduate of Harvard Law School (where he studied under Alan Dershowitz, for whom he is sometimes mistaken) has devoted his entire career to public defender work. As a state employee, he earns less than $100,000 a year, which must make him, by a considerable margin, the lowest paid graduate of his Harvard Law class.
"Obviously," he says, "I'm not in this for the money."
All these and others don't quite talk over each other (at least not often) as in an Altman movie, but in an Altmanesque way all the actors who appear regularly on the 15 Gothic Street stage are interrelated.
Next week, it will be Assistant District Attorney Linda Pisano and Hampshire County's leading defense attorney, David Hoose, in the spotlight as the trial of the founder and former director of the Pioneer Arts Center of Easthampton kicks into high gear.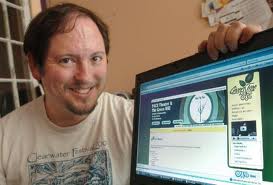 I'll be there.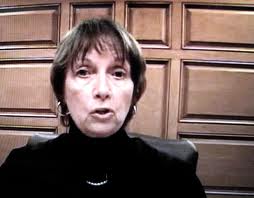 Jury selection in the trial of David Oppenheim slowed to a snail's pace on Wednesday, as only one juror was seated from among the twenty-three called.
This is not necessarily a bad thing. It's a sign that the justice system is working, not that it's not.
Hampshire County Superior Court judge Mary-Lou Rup would rather be safe than sorry.
The real world is neither LA Law nor Law and Order, nor Boston Legal.
To each new prospective juror, Judge Rup mentions prior media coverage of the case and asks, in addition, whether the very nature of the charges–Oppenheim, the thirty-eight year-old founder and former director of the Pioneer Arts Center of Easthampton, is accused of having had various forms of sex between October, 2005 and June, 2007 with a student/intern who was under the age of sixteen–would prevent the prospective juror from being impartial, fair, open-minded and unbiased.
More than a third of those called to serve have been excused on grounds of pre-existing bias, the result either of media coverage or of the graphic nature of the charges.
Tomorrow will be the fourth day on which Judge Rup asks the same questions of a jury panel.
That's what caused one spectator who's been in court since Monday to remark, "This is like Groundhog Day."
Yes, it's the same questions and the same procedures each day. But that's how the justice system should work.
The stakes are high. Care should be taken during the process of jury selection.
Though theatrical elements are certainly a part of any courtroom proceeding, this is not a television program scripted with ratings in mind.
Judge Rup is doing all she can to be sure that the jury that will eventually hear the case–twelve jurors and four alternates–will be able to render a verdict based on the evidence presented in court.
If it takes a week instead of a day to seat such a jury, the time will not have been wasted.
We live in a hurry-up world, with no time for down time.
One observer commented today, "This is like watching paint dry. If Judge Carhart [Judd J. Carhart, a former Superior Court judge recently appointed to the state Appeals Court] was hearing this case, they'd be on their fourth or fifth witness by now."
But I find it reassuring that in the real world of 15 Gothic Street both prosecution and defense, as well as the judge, place a premium on the selection of an unbiased jury, no matter how long the process takes.
By the time the jury renders its verdict, nobody will remember how long the selection process took.
Elmore Leonard once attributed the success of his novels to his ability to "leave the boring parts out."
I try to do the same in my writing.
But that doesn't mean they're not important, especially in the very real world of 15 Gothic Street.
Hello again to any and all of you who were reading this blog last year.
Suffice it that Sarah Palin is now a part of my past, America's past, and, I hope, yours.
Andrew Sullivan, among others, says he thinks THE ROGUE played a large part in keeping Sarah out of the current race for the Republican nomination.
Whether or not that's true, she is out. In fact, she is done.
And I'm done with her.
I've moved on to 15 Gothic Street, Northampton, Mass., home of Hampshire County Superior Court, about which I'll be writing my next book.
I've been there every day since January 3 and plan to be there almost every day when court is in session.
The sessions, while often enthralling, are but the tip of the iceberg.
The people who come to superior court–judges, attorneys, clerks, bailiffs, defendants and their families and friends, and victims and their families and friends–all have lives beyond 15 Gothic Street, but lives that have brought them together there.
In 15 GOTHIC STREET I'll be telling the behind-the-scenes stories that illuminate and amplify the courtroom events.
In this blog, I'll write about what I observe inside the courtroom–the iceberg's visible tip.
For example:
Today brought the first day of jury selection in the trial of David Fried Oppenheim, 37, who has been indicted on five counts of child rape for having had various forms of sex, between October, 2005 and June, 2007, with a girl under the age of sixteen.
Fried Oppenheim was, during that time, the director of the Pioneer Arts Center of Easthampton and the girl was a student and/or intern there.
She says he did stuff to her.
He says he didn't.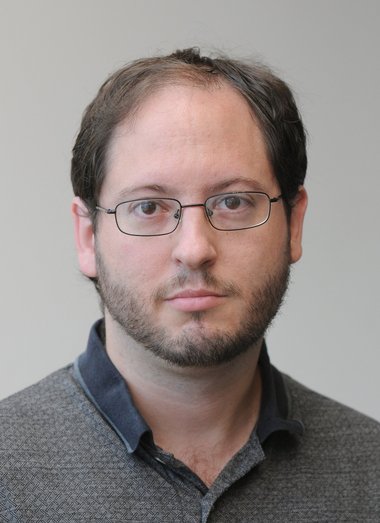 Given the nature of the charges, this is an ugly case, although no pretty ones make it into Superior Court.
Fried Oppenheim's lawyer is Hampshire County's go-to guy for criminal defense: David Hoose.

Hoose said last week that there's only one defense in a case like this: the alleged victim is lying.
It will be his job to persuade the jury that they should not believe her when she testifies as to what she says Oppenheim did to her, when he was in his thirties and she was just turning fourteen.
Destroying the credibility of a girl who says a much older man persuaded her to have sex with him when she was still a child is, on the face of it, a dirty job.
But suppose Fried Oppenheim didn't do it? Suppose she's making it up? Suppose she became spiteful because he resisted her flirtations?
Just suppose.
Could the case get this far? Could totally unfounded allegations of such a vicious nature actually drag an innocent man this far into hell? If so, how could that happen?
I don't know, but I do know, as the judge will instruct the jury, that Fried Oppenheim doesn't have to prove his innocence.
The prosecution must prove his guilt beyond a reasonable doubt.
Jury selection should be completed by Wednesday.
The trial will probably run through the end of next week.
Much of the testimony will be XXX, not PG-13.
David Fried Oppenheim, the founder of a performing arts center, finds himself on the biggest stage of his life, with the remainder of his own life in the balance.
My half-hour interview with Stu Levitan on Madison's progressive radio station WXXM is here.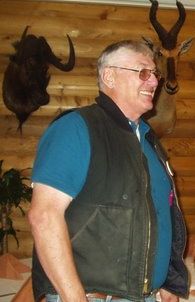 Readers of THE ROGUE will make or already have made the acquaintance of Jay Cross on pp. 86-88.
He's the total stranger who came to my house on Lake Lucille in spring of 2010 to offer me the keys to his house, in case I needed a safe haven to which I could retreat. Jay also said he'd have a loaded AK-47 waiting for me on his kitchen counter, in case I needed to feel safer.
Now, that's Alaskan hospitality.
Phil Munger of Progressive Alaska asked Jay, in this interview about anonymous sources and the corruption of Alaska media.
If you've ever wondered what "a real Alaskan" looks and sounds like, Jay Cross shows you and tells you, in the comments linked to above.
Phil Munger–also a true Alaskan–offers his own thoughts about the decline and fall of the Anchorage Daily News during the reign of corporate shill executive editor Pat Dougherty.
Believe me, when Jay Cross says your "journalism is crappy," it is.