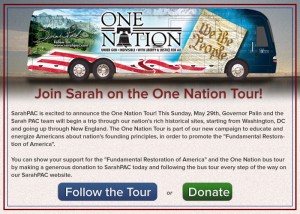 I wonder if this time she'll really ride the bus.
Doesn't look like there's much space on the side for an ad for THE ROGUE, but I'll ask Crown to inquire anyway.
At least this will give us all a chance to get out and say hi to Sarah in person–maybe our last chance.
And it will get Chuck and Sally and Piper out of  Alazona for a while, and it also gets Trig out of mothballs.
More seriously, it will be a genuine test of how far Sarah's star has fallen since the Going Rogue days in the fall of 2009.
And, of course, it may be the quasi-official start of her 2012 presidential campaign.
I'm sure she's anticipating huge cheering throngs at every stop.  Do you think she'll get them?
Any thoughts as to which of Sarah's band of Merry Pranksters will be on board?  Meg Stapleton?  Rebecca Mansour?  Franklin Graham?  Greta Van Susteren?  Mary Glazier?  Andrew Breitbart?  William Kristol?  Shailey Tripp?
Whoever Sarah chooses for the cast, I'm sure they'll have a rollicking good time on the road.
Although I doubt the new tour will dethrone Ken Kesey and the original Merry Pranksters from number one on the "Best Bus Tours of All Time" list.
109 Responses to "Sarah's Magical Mystery Tour"