Sarah told the Sunday Times of London, "I am going to Sudan in July and hope to stop in England on the way. I am just hoping Mrs Thatcher is well enough to see me as I so admire her."
Aides to the ailing Margaret Thatcher won't let Sarah anywhere near the former British prime minister. That's no surprise.
But how about the trip to Sudan, where summer temperatures in the capital, Khartoum, average more than 105 degrees? (Maybe the move to Arizona was to acclimatize her.)
On anyone's list of the most unfortunate countries on earth, Sudan would have to be near the top. Put it this way: Sarah's not going there for the shopping.
Can anyone see any reason for Sarah to make this trip other than to give herself another "foreign policy" credential for the 2012 campaign?
Questions:
–Is Franklin Graham paying for it?
–Will Greta Van Susteren tag along?
–Think she'll bring any of the kids? How about her "good biblical wife" Todd?
–Will Sarah pop over to Kenya to get a refill on her protection from devils from Rev. Thomas Muthee?
–How much of her fortune will she donate to humanitarian aid for the impoverished people of Sudan?
No matter what's in the (heavily redacted) emails that the state of Alaska will release on Friday, video and photos of Sarah touring refugee camps in Darfur –location of  genocide so appalling that former Secretary of State Colin Powerll called it "the worst humanitarian crisis of the 21st century"–will make it old news by next month.
It's one thing to hop on the back of a Harley in Washington, and wink and wave.
But for Sarah to inflict herself and her ambitions on the hundreds of thousands of suffering refugees in Darfur would be the most loathsome thing she's ever done.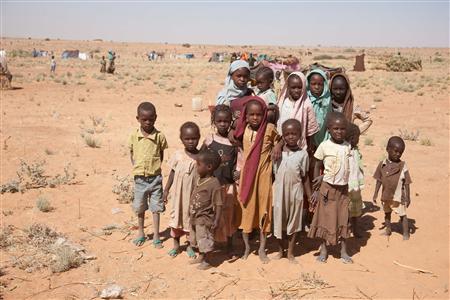 UPDATE:
During her 2008 vice presidential debate with Joe Biden, Sarah claimed that as Alaska governor she tried to fight atrocities in Sudan by having the state pension divest itself of investments there.  Not so, as ABC News demonstrated.  In fact, Alaska state representative, Les Gara, a co-sponsor of the divestment measure, said that Sarah's administration "killed our bill."
Despite Palin's claim in the debate, her administration's position on the bill was summarized by her deputy revenue commissioner, Brian Andrews.  At a legislative hearing in February, 2008, he said, "Mixing moral and political agendas at the expense of our citizens' financial security is not a good combination."
In other words, forget the atrocities as long as we're making money.
Nonetheless, in the debate, Palin said, in regard to the genocide in the Darfur section of Sudan:
"What I've done in my position to help, as the governor of a state that's pretty rich in natural resources, we have a $40 billion investment fund, a savings fund called the Alaska Permanent Fund.  When I and others in the legislature found out we had some millions of dollars in Sudan, we called for divestment through legislation of those dollars to make sure we weren't doing anything that would be seen as condoning the activities there in Darfur."
Which is exactly what she did not do when it mattered.
As the legislative session was ending, and there was no chance that the bill could even be brought up for vote,  she had another aide say that she'd changed her mind and now supported the it.  However, as the Washington Post reported, that was only after it was clear that time had run out.
In other words, she was against it before she was for it, and paid lip service to it only after she knew it was dead.
Of course, in the same debate, Sarah also said, "We're building a nearly $40 billion natural gas pipeline."
How's that AGIA thing working for ya now, Sarah?
72 Responses to "Still think she's not running? Sarah to Sudan in July//UPDATE: Sarah's 2008 Lie about Sudan"