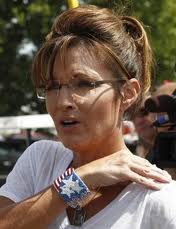 I had to laugh earlier today when I saw a cute little piece in the "Daily Intel" section of New York Magazine called "Inside the Palin Industrial Complex: The People Who Thrive on Speculating About Her Presidential Intentions."
The writer, Noreen Malone, categorizes the various people who write or talk frequently about Sarah in public places.  Under the category of "The Obsessives," she lists Andrew Sullivan and me.
Anyone who regularly reads "The Dish," Andrew's blog at The Daily Beast, is aware of the wide range of subjects that engage his penetrating intellect. Sarah Palin is only one among many.
The failure of mainstream media to acknowledge that even doubt about Sarah's account of her pregnancy with Trig might be legitimate has prompted him to continue to express such doubt, even in the face of widespread ridicule and condemnation.
I would call that persistence, not obsession.
As for me, Malone writes:
"Reporter Joe McGinness [sic], for instance, famously moved to the house next door to Palin's in Alaska so he could better gather intel for a book. His Rogue blog is a running chronicle of Palin's movements, along with occasional Wasilla reportage…McGinness'[sic] book is out in a month — and it will good for sales if she runs."
I signed a contract to write about about Sarah in November, 2009.  A year and a half later, working full time on it, I delivered the book.  Since then, in order to build interest in the book, I've been blogging–mostly about Sarah.
Does that make me "obsessive?"
Hardly.
It makes me professional:  I signed a contract to write a book, I wrote the book, and starting next month I'll promote the book.  When the job is done, I'll move on to the next job, as I've been doing for more than forty years.
If Nora Malone wants to meet people who are obsessive about Sarah, I suggest she look at some of the commenters on this and other Palin-related blogs.
Writing about Sarah day after day, often many times in the same day, without even getting paid for it–now that's obsessive.
That's all for now, friends.  I've got to get started on my preparations for Hurricane Irene, whose acquaintance I expect to make on Sunday.
One thing I need to do is shore up the sixteen-foot fence I built earlier this summer so my next door neighbor wouldn't be able to see what I was cooking on my grill.
75 Responses to "The difference between an obsessive and a professional"