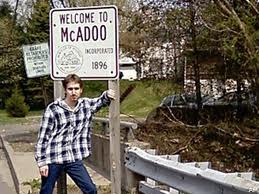 A Pennsylvania father and son, Craig and Shawn Christy, have been arrested for making repeated obscene and threatening phone calls to Sarah Palin and her parents.
And none too soon.
I hope these disturbed and dangerous men are prosecuted to the full extent of the law. (Incidentally, that's Shawn Christy, of McAdoo, PA, pictured at left.)
No one in public life should be subjected to this sort of abuse and personal threat.
The harassment of Sarah Palin's parents is even more despicable.
See also Reuters.
I have personal feelings about this because my family and I were subjected to telephoned and emailed threats and harassment from Palin supporters last summer, simply I because I temporarily moved into a house next door to hers.
It's ugly and sick, no matter who is on the receiving end of the abuse and threats of violence.
As we saw in Tucson, murderous acts of violence occur in an atmosphere that encourages or permits threatening rhetoric.
Both Craig and Shawn Christy will be entitled to the presumption of innocence if and when they stand trial for the crimes of which they are accused.
The legal "presumption of innocence," however, is not a constitutional impediment that prevents those of us not sworn as jurors from exercising our common sense.
Mine tells me that the Heath and Palin families were subjected to the very sort of sick and oppressive intrusion that Sarah implied–and that Glenn Beck and Greta Van Susteren actually stated–I deserved a year ago, simply because I'd moved in next door to her for the months during which I needed to be in Wasilla to conduct my research for THE ROGUE.
Sarah's words last summer created a climate that led to my receiving protection from both the Wasilla Police Department and the Alaska State Troopers. The threats that came from Sarah's supporters forced me to change both my email address and home phone number.
But now it's a year later. To coin a phrase Todd likes to use, I could say, "What goes around, comes around," but I'd prefer to say that my difficulties then are water under the bridge.
In any case, I write about last summer in THE ROGUE.
So all I can say at this point to Chuck and Sally Heath–and to Sarah and Todd and their children and grandchildren–is that I'm sorry you, too, have been victimized by deranged behavior.
Threats by crazies have nothing to do with politics.
They have everything to do with mental health, with mass media (including the internet), with incitement to violence, and with the sorry state of the laws in this country that not only permit, but seem to encourage private citizens to acquire, own and use firearms.
And Shawn Christy will now argue in court that he shouldn't be punished for his crimes because his mother suffered from Lyme Disease while she was pregnant with him?
I know all about the "Twinkies" defense.
But the "pre-natal Lyme Disease" defense?
Note to whatever poor lawyer winds up defending the Christys in Alaska: that ain't gonna wash, my friend.
Whatever we might think of Sarah, and of Chuck and Sally Heath, please, let's hope that neither she nor her husband, nor her parents, nor her children or grandchildren are ever again subjected to this sort of abuse.
UPDATE:
Courtesy of TPM, here is the FBI affidavit that led to the arrest of Craig and Shawn Christy.
115 Responses to "This is worse than a disgrace! From such seeds sprang Oswald, Sirhan, Ray, Chapman, Hinckley, and Loughner. My genuine sympathies to the Heath and Palin families//UPDATE: see FBI affidavit below"