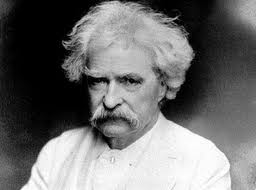 Via SarahPac:
We spent a great afternoon in "America's Hometown," as Hannibal, Missouri, is famously called. Of course, Hannibal plays an important role in American literature as the hometown of Samuel Clemens. This town on the Mississippi River and his boyhood adventures here were the inspiration for many of Mark Twain's most famous works.
Mark Twain's wit was evident when he spoke or wrote about Hannibal. Reminiscing about his humble origins here, he once said: "Now in Hannibal where I was brought up, we never talked about money. There was not enough money in the first place to furnish a topic of conversation."
I'm sure this town also instilled in him the decency and common sense that he would hold to all his life. As an old man far removed from his boyhood days, he famously told others: "Always do right. This will gratify some people, and astonish the rest."
– Sarah Palin
Not for the first time when confronted by Sarah's hubris and ignorance, words threaten to fail me.
Sarah and her ghostwriters are so devoid of literary awareness–not to mention so flat-out tone deaf  and dumb–that they could presume to turn Mark Twain into a Palinista.
Not since Ronald Reagan told an audience in Hammonton, NJ, during his 1984 presidential campaign, that:
"America's future rests in a thousand dreams inside your hearts; it rests in the message of hope in songs so many young Americans admire:  New Jersey's own Bruce Springsteen,"
has an American political figure so shamefully tried to turn an artist's message 180 degrees in order to make it seem as if it reflected well upon himself or herself.
Ronald Reagan was to Bruce Springsteen in 1984 as Sarah Palin is to Mark Twain today:  a desecration.
But it's even worse in Sarah's case, because Twain isn't alive to call her out.
My goodness:  can you imagine what Mark Twain would say about Sarah?    I suspect he wouldn't be nearly as controlled as Springsteen was toward Reagan, simply out of respect for the office of President.
What's next, Sarah:  Woody Guthrie's birthplace in Okemah, Oklahoma?
Sadly, Johnny Cash's house in Hendersonville, Tennesseee, burnt down several years ago.
But if you want to head north to try to cash in on former homes of renowned American literary and musical figures who hold you in as much contempt as Mark Twain would have,  you can still see Bob Dylan's childhood home in Hibbing, Minnesota.
Meanwhile, if you insist on quoting Twain, you might start with this:
"It is better to keep your mouth closed and let people think you are a fool than to open it and remove all doubt."
86 Responses to "Truly, this wretch knows no bounds: Sarah tries to co-opt Mark Twain"