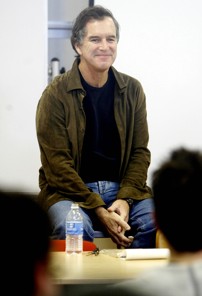 In the Washington Post today, Michael Cavna takes note of the Doonesbury series of strips about THE ROGUE.
I couldn't talk to Cavna because I am contractually prohibited from giving any real time interviews before September 19, but I thought that his description of my renting the house next door to Sarah and Todd last summer "…as if moving in on his prey…" was hilarious.
As if Sarah was ever prey, not predator.
Cavna also says that Garry Trudeau "has partnered with McGinniss for a cartoon collaboration."
"Partnered" suggests that there is/was a creative and/or financial arrangement between Trudeau and me.
There is not.
There never was.
There never could be.
Garry Trudeau is a comic genius whose work has graced and enlightened and amused us for more than forty years.
I'm just a teller of true stories:  no more, no less.
That Trudeau considers THE ROGUE worth his attention is as high a compliment as I could ever receive.
My agent, Dave Larabell, of The David Black Agency, suggested that Trudeau–having done a week-long series about Hedley of Fox News stalking me as I was researching my book–might want to pick up the story line after I'd actually written the book and just before it was published.
As it happened, once he'd read THE ROGUE, he did.
So here's the Monday strip:

Stay tuned.
They'll only get better–or worse–depending on your perspective.